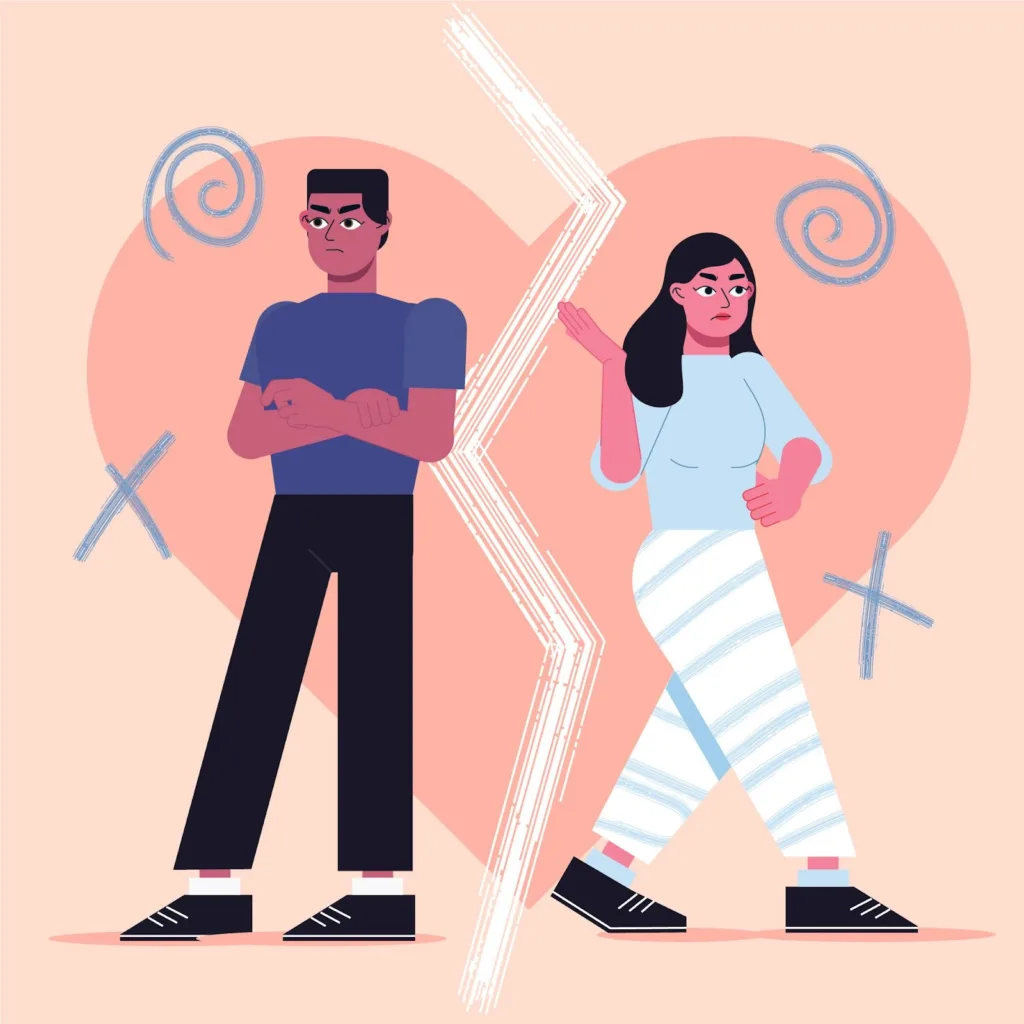 Suddenly you find out that you are no longer a couple. All the things that you used to do, the places you used to go to, your social life, and even your plans for the future were associated with your former partner. Just getting back to daily life may seem almost impossible. So then, how does one deal with a breakup?
Understanding Your Feelings
Breakups can be incredibly difficult to navigate. Whether you were the one who initiated the split or you were blindsided by the news, it's important to take the time to understand and process your feelings. This will allow you to heal and move forward in a healthy way.
When you have 'lost' a partner, you feel almost as if someone has died – you actually go through an experience that is very similar to bereavement. Feelings of intense anger alternate with longing for your former partner. There is also probably deep hurt and a feeling of betrayal, especially if there is another person on the scene. Some people even feel disgusted with themselves.
There is no "right" way to feel. Your feelings, as unwelcome as they sometimes are, are part of yourself. They are something to accept and deal with.
Often people around you just don't understand what you are experiencing. They may say things like "You're much better off without him/her", "After all there are other fish in the sea", and "How long are you going to mope around?" Although they are trying to be helpful, you may be left feeling that no one understands what you are going through.
During a breakup, it's normal to experience a wide range of emotions. You may feel sadness, anger, confusion, or even relief. It's important to acknowledge and accept these emotions, rather than trying to suppress or ignore them. Allow yourself to feel whatever comes up, and remember that it's okay to grieve the loss of the relationship.
While those around you fail to grasp your experiences, it is natural to feel a sense of confusion. During such moments, several questions may arise in your mind.
How long will all this take?
There is no way of knowing how long a person will take to get over the intense feelings associated with breaking up. With some people it takes weeks, for others it may be months or even years. It depends on the length and nature of the relationship, the way the relationship ended and the kind of person you are. Be patient with yourself and try to learn the difference between giving yourself time for recuperation and reflection and becoming stuck in a pattern that doesn't allow for growth.
Where do I go from here?
You may feel pressure from others or even from within yourself to get on with life and put the past behind you as soon as possible. However before you can completely close this chapter of your life you need to sort out your thoughts and feelings, acknowledge them and learn from them. By identifying what went wrong in the relationship, what your part in it was and how you'd like things to be different in the future, you can better ensure that you won't find yourself in the same situation in future relationships.
Stages of a Breakup
Going through the stages of a breakup is a normal part of healing after a relationship ends. These stages include denial (not accepting the breakup), anger (feeling mad or upset), bargaining (trying to negotiate to get the relationship back), depression (feeling sad or down), and acceptance (coming to terms with the breakup and moving on). Everyone experiences these stages differently, and it's okay to feel a mix of emotions. It takes time to heal, and it's important to be patient with yourself as you go through these stages.
In the

denial stage

, you may find yourself unable to accept that the relationship is truly over. You may cling to hope that things will work out, even if the evidence suggests otherwise. This stage can be characterized by feelings of shock, disbelief, and numbness.

Anger

is a common emotion in the aftermath of a breakup. You may feel betrayed, hurt, or resentful towards your ex-partner. It's important to express your anger in healthy ways, such as through exercise or talking to a therapist. Holding onto anger can hinder your healing process.

Bargaining

is a stage where you may try to negotiate or make deals with your ex in an attempt to salvage the relationship. This can be a vulnerable and desperate time, but it's important to remember that you cannot force someone to love you or stay with you. Accepting this reality is an essential step in moving forward.

Depression

is when you may feel deep sadness, loneliness, and a lack of motivation. It's important to reach out for support during this stage, whether that be from friends, family, or a therapist. Remember that it's okay to ask for help.

Finally,

acceptance

is the stage where you begin to come to terms with the end of the relationship. You may still have moments of sadness or longing, but overall, you are able to move forward with your life. This stage is characterized by a sense of peace and a renewed focus on your own well-being.
How to Deal With a Breakup
How to deal with a breakup? Healing from a breakup is not a linear process. It involves ups and downs, good days and bad days. Be patient with yourself as you navigate through the fluctuations, understanding that it takes time to heal and everyone's journey is unique. Allow yourself the space to grieve, heal, and grow at your own pace.
One of the most important steps you can take is to focus on self-care. This means taking care of your physical, emotional, and mental well-being. Make sure you're getting enough

sleep

, eating nutritious meals, and engaging in activities that bring you joy. Taking care of yourself will help you build resilience and cope with the emotions that arise.

Another helpful step is to create a support system. Reach out to friends, family, or a therapist who can provide a listening ear and offer support. Surrounding yourself with people who care about you can help alleviate feelings of loneliness and provide a sense of belonging.

In addition to self-care and support, it's important to set boundaries with your ex. This may mean limiting contact or unfollowing them on social media. Seeing constant reminders of your past relationship can hinder your healing process. Give yourself the space you need to heal and move forward.
What Not to Do After a Breakup
In addition to knowing what steps to take, it's also important to know what not to do during a breakup. These behaviours can hinder your healing process and prolong your pain.
Firstly, avoid isolating yourself. While it's natural to want some alone time, isolating yourself for long periods can lead to increased feelings of sadness and loneliness. Make an effort to reach out to loved ones and engage in social activities, even if it feels challenging.

Secondly, avoid using unhealthy coping mechanisms, such as alcohol or drugs, to numb your pain. While these substances may provide temporary relief, they can ultimately hinder your healing process and lead to additional problems. Instead, seek healthy coping mechanisms such as exercise,

meditation

, or talking to a therapist.

Lastly, avoid rushing into a new relationship. While it may be tempting to seek validation or distraction from the pain of the breakup, entering into a new relationship too soon can prevent you from fully healing and learning from your past experiences. Take the time you need to focus on yourself before pursuing a new romantic connection.
Focusing on Long-Term Recovery
While short-term steps are important, it's also crucial to focus on long-term recovery. This means taking steps to heal and grow from the breakup, rather than getting stuck in a cycle of pain and resentment.
One helpful strategy is to engage in activities that promote self-discovery and personal growth. This could include trying new hobbies, taking up a new sport, or pursuing a passion you've always had. Exploring new interests and expanding your horizons can help you build a sense of identity outside of the relationship.

Additionally, it can be helpful to reflect on the lessons you've learned from the breakup. What patterns or behaviours contributed to the end of the relationship? What do you want to do differently in future relationships? Taking time to reflect and learn from your experiences can help prevent similar issues in the future.

Forgiveness

is a key component of long-term recovery. This doesn't mean forgetting or condoning what happened, but rather, letting go of the anger and resentment that may be holding you back. Forgiveness is a process, and it may take time. Be gentle with yourself as you work towards forgiving both others and yourself for any perceived shortcomings or mistakes. Remember that everyone is human and deserves compassion, including yourself
Get help
You may feel like withdrawing from people altogether at this time but it really helps to share your feelings. Talk to a trusted friend or family member. It may also help to put your feelings in writing.
Counselling can help you get some perspective on this rapidly changing and confusing time. This can be especially helpful when you get the feeling that your friends are fed up with the subject of your break-up! The goal would be not just to get through this bad patch, but also to rebuild a new life.
Be patient with yourself
You can't avoid the pain, but you will get over it – eventually. Meanwhile, treat yourself gently and give yourself time to recover. Spend time with people in whose company you feel comfortable. Eat well and exercise.
Gradually you will find that your negative feelings will start to fade and you will be able to start afresh.
Till then – hang in there!
1to1help is India's leading Employee Assistance Program (EAP) service provider with a reputation for quality with integrity. We support organizations to improve employee well-being, through a variety of programmes. Visit 1to1help.net to learn more about how we can help you and your organization.